It's panama hats, pimms, plus strawberries and cream galore at the start of August with the 5-day Glorious Goodwood Meeting (Tues 27th July to Sat 31st July). As always, the West Sussex track can expect monster crowds throughout the week with a whole host of top-notch contests each day for punters to get stuck into.
So we'll be on-hand throughout the whole meeting to take you through the key trends for each day's LIVE ITV races.
We continue on Day FIVE with four LIVE ITV races, including the super-competitive Stewards' Cup.
DAY FIVE – Saturday 1st August 2020
1.20 – Thames Materials Handicap Cl2 (3yo 0-105) 7f ITV
11/11 – Carried 9-4 or less
9/11 – Had run in the last 3 weeks
9/11 – Won over 7f before
8/11 – Drawn in stall 7 or lower
8/11 – Won 2 or 3 times before
8/11 – Rated between 91-96
8/11 – Returned 8/1 or shorter in the betting
5/11 – Irish bred
4/11 – Won last time out
4/11 – Had run at Goodwood before
4/11 – Ran at Newmarket last time out
3/11 – Trained by Mark Johnston
2/11 – Ridden by Silvestre De Sousa
2/11 – Ridden by Joe Fanning
2/11 – Winning favourites
2020 Winner: Society Lion (5/4 fav)
1.55 – Unibet Stewards' Sprint Stakes Handicap (Consolation Race for the Qatar Stewards' Cup) (Heritage Handicap) Cl2 6f
16/17 – Didn't win their last race
16/17 – Had won over 6f previously
15/17 – Raced at Goodwood previously
14/17 – Had 4 or more runs that season
13/17 – Won at least 3 times during their career
12/17 – Finished 4th or worse in their last race
12/17 – Favourites unplaced
9/17 – Priced between 8/1 and 12/1 in the market
9/17 – Returned a double-figure price in the market
8/17 – Winning Distance – 1 ¼ lengths or more
7/17 – Raced at either York (3) or Newmarket (4) last time out
3/17 – Trained by Clive Cox
3/17 – Favourites (one in the last 14 years)
1/17 – 3 year-old winners
2020 Winner: Treacherous (7/1)
14 of the last 15 winners carried 9-0 or more
10 of the last 15 winners carried between 9-0 and 9-5
Just 1 winner from stall 1 in the last 15 runnings
2.30 – Summer Stakes (Handicap) Cl2 1m6f ITV
17/18 – Had won at least twice before
16/18 – Had won over at least 1m4f before
14/18 – Aged either 4 or 5 years-old
15/18 – Had raced within the last 4 weeks
11/18 – Carried 9-7 or more
11/18 – Returned 9/1 or shorter in the betting
11/18 – Rated between 90-100
10/18 – Placed favourites
9/18 – Came from the top three in the betting
6/18 – Trained by Mark Johnston
5/18 – Winning favourites
5/18 – Ran at Newmarket last time out
4/18 – Won last time out
3/18 – Ran at Ascot last time out
2/18 – Ridden by Ryan Moore
No winner from stall 1 in the last 15 runnings
8 of the last 13 winners came from stalls 10-14 (inc)
2020 Winner: Hochfeld (15/2)
3.05 – Qatar Lillie Langtry Stakes (Group 2) (Fillies & Mares) Cl1 1m6f ITV
16/18 – Had won over at least 1m4f before
15/18 – Had raced 2 or more times already that season
14/18 – Finished in the top three last time out
14/18 – Returned 15/2 or shorter in the betting
12/18 – Aged 3 or 4 years-old
11/18 – Had run at Goodwood before
10/18 – Won last time out
9/18 – Unplaced favourites
6/18 – Winning favourites
3/18 – Ran at Newmarket last time out
3/18 – Ridden by Tom Queally
9 of the last 15 winners came from stalls 4-6 (inc)
Enbihaar has won the last two runnings
2020 Winner: Enbihaar (1/2 fav)
3.40 – Unibet Cup (Stewards´ Cup) (Heritage Handicap) Cl2 6f ITV
18/18 – Had won over 6f before
17/18 – Aged 6 or younger
17/18 – Had at least 3 previous career wins to their name
16/18 – Had 3 or more previous runs that season
12/18 – Raced at either Ascot, York or Newmarket last time out
11/18 – Aged either 4 or 5 years-old
11/18 – Placed favourites (top 4)
10/18 – Carried 9-1 or less
9/18 – Raced at Goodwood before
9/18 – Placed 1st or 2nd last time out
6/18 – Favourites (1 joint, 1 co)
2/18 – Trained by Roger Charlton
2/18 – Trained by William Haggas
3/18 – Winning 3 year-olds
2020 Winner: Summerghand (22/1)
12 of the last 16 winners came from a double-figure draw
=====================================================
**TRAINERS-QUOTES.COM**
GET TOP STABLE INFO FROM 19 LEADING YARDS
DELIVERED TO YOUR IN-BOX DAILY
INFO THE BOOKIES HATE & INFO THAT COMES DIRECT FROM
THE TRAINERS THEMSELVES! JOIN TODAY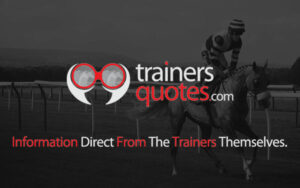 =====================================================