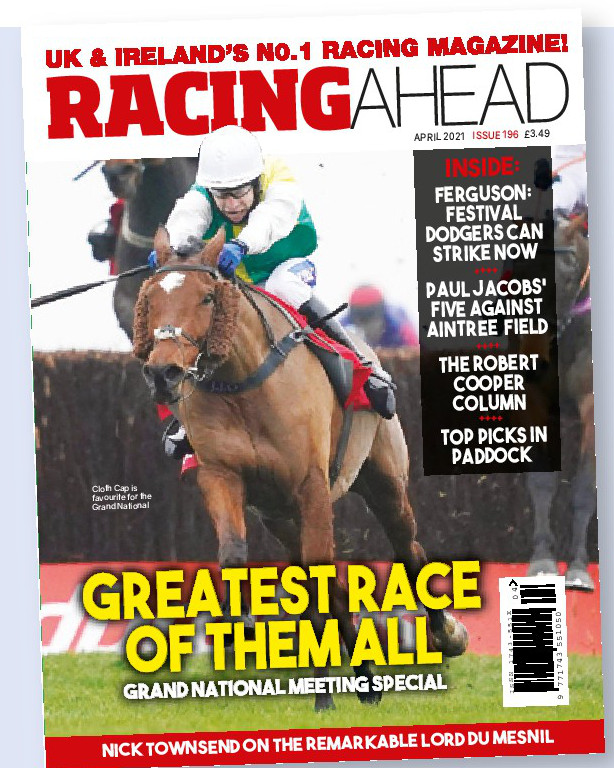 It's billed as the greatest race on earth and even lovers of the Cheltenham Gold Cup and Flat racing's Classics find it difficult to argue against the spectacle of the Grand National. But the Aintree meeting is far more than one race. It's three days of glorious competition featuring horses who by-passed Cheltenham and are fresh to challenge for their own glories against some who disappointed at Prestbury Park and are out to redeem themselves.
Grand Nationals come thick and fast this month with Ireland and Scotland also featuring their marathon events. What a treble that would be! Another monster to rival that of punter Paul Dean who scooped £250k when Bob Olinger completed his four-timer and he cashed out. We can't promise you such fortunes, but we do hope you prosper with our expert advice.
FOR ALL ENQUIRIES/ORDERS
RACING AHEAD
Tuition House, St George's Road Wimbledon, SW19 4EU Tel: 0845 638 0704
Racing Ahead is published by The Racing Paper Ltd T/A Racing Ahead www.racingahead.net
Subs enquiries: 0845 638 0704 Back issues: £4 each Publisher & Editor In Chief: David Emery Photos: Tracy Roberts Advertising enquiries: Graham Wright 0845 638 0704 / graham@racingahead.net
EDITORIAL CONTRIBUTORS
Paul Ferguson, Robert Cooper, Nick Townsend, Paul Jacobs, Andrew Ayres, Graham Buddry, Jeremy Grayson, Ian Heitman, Andy Newton
Distribution: Intermedia
Printer: Mortons, Horncastle
Opinions in Racing Ahead are those of the contributors and not necessarily the views of The Racing Paper Ltd.
ISSN: 1743-551X